Coffee or Tea? Cannoli, that is.
November 27th, 2009 | 21 Comments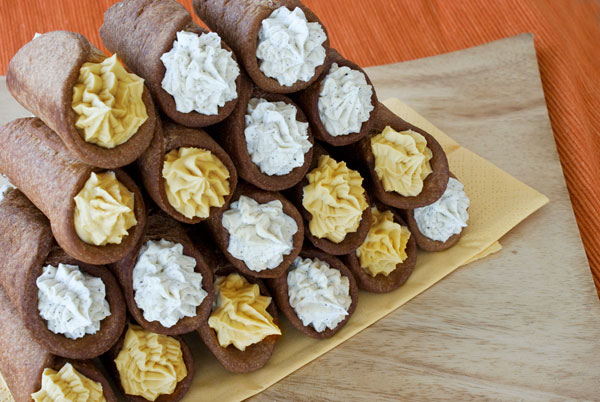 Cannoli, I barely knew ya. Who could blame me? Cannoli haven't exactly moved gracefully through the years. They're considered a relic, gone the way of the Italian-American joints with the red-checkered table cloths and sloppy bowls of spaghetti. Into a hibernation, if not a flat-out extintion. Do you know anyone who's made connoli in the last decade? Me neither.
Like fashion designers and movie makers who look to the past to resurrect trends, chefs pore over old issues of Good Housekeeping to find the gems of yester-year. Today, we've woken up floating islands, baked alaskas and peach melbas,  ushering them into the 21st century with our own diabolical spins. So why not cannolis? Why have they been left behind?
The examples you see in the occasional bakery don't exactly inspire the baking Michelangelos in us. They're greasy, wet and curdled, probably having sat there since the Carter administration. I'm not even sure what a good cannoli should taste like,  having never seen a good one, but I do know what I imagine it to taste like. The shell should snap with a delicate crunch when bitten into, making way for a smooth, creamy filling. They should, like peanut butter and jelly, be two contrasting beauties that depend on each other to make everything better.
Color me surprised to even be reflecting on cannoli, especially on this Thanksgiving weekend, but there is one person who still sees potential in this classic. Lisa Michele decided to bring them out of retirement for this month's Daring Baker's Challenge. Here's the filling:
The November 2009 Daring Bakers Challenge was chosen and hosted by Lisa Michele of Parsley, Sage, Desserts and Line Drives. She chose the Italian Pastry, Cannolo (Cannoli is plural), using the cookbooks Lidia's Italian-American Kitchen by Lidia Matticchio Bastianich and The Sopranos Family Cookbook by Allen Rucker; recipes by Michelle Scicolone, as ingredient/direction guides. She added her own modifications/changes, so the recipe is not 100% verbatim from either book.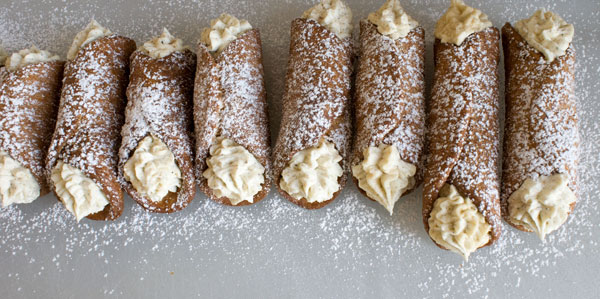 As I read over the recipe, it became clear that the real challenge here was facing the fear of deep-frying. The rest of the recipe is child's play. The dough takes a few minutes to mix and so does the filling. Though I can understand the apprehension about putting your fleshy and vulnerable self in front of a cauldron of lava-hot oil, I will say that I've never seen the oil jump out of the pot all by iteslf. Even when hot-as-all-get-out, it just lays there, still as a stuffed squirrel. Blame the user, not the object. If you approach it with care, it will not hurt you. Just make sure you lower the cannoli into the oil gently so they don't splash back at you like the fat neighbor kid doing a cannonball into the pool. And make sure they're secure in your tongs or spoon when removing them so they don't drop back in. When you are finished frying, turn off the heat and let the oil cool completely in the pot before discarding.
I mostly see cannoli made with sweetened, whipped, ricotta cheese with pistachios, chocolate chips, and candied fruit stirred in, but I prefer the sinful smoothness of mascarpone. Once you sweeten your cheese, you can fold in whatever you like, and in this batch I tried coffee and chai tea flavors, the customary proposition at the end of dinner. If you feel like you've got energy to spare,  try your hand at making your own ricotta or mascarpone as described by Vera.
Perhaps the fact that all of the Daring Bakers have made cannoli at the same time will spark a movement not seen since days of The Macarena.
[The print button will be up tomorrow.]
Cannoli
makes about 15
For the shells:
2 cups (250 grams/8.82 ounces) all-purpose flour
2 tablespoons(28 grams/1 ounce) sugar
1 teaspoon (5 grams/0.06 ounces) unsweetened baking cocoa powder
1/2 teaspoon (1.15 grams/0.04 ounces) ground cinnamon
1/2 teaspoon (approx. 3 grams/0.11 ounces) salt
3 tablespoons (42 grams/1.5 ounces) vegetable or olive oil
1 teaspoon (5 grams/0.18 ounces) white wine vinegar
Approximately 1/2 cup (approx. 59 grams/approx. 4 fluid ounces/approx. 125 ml) sweet Marsala or any white or red wine you have on hand

For the frying:
cannoli molds
1 egg white
vegetable or any neutral oil for frying – about 2 quarts (8 cups/approx. 2 litres)

For the coffee filling:
(makes enough filling for about 10 cannoli. If you want only coffee filling, double the recipe)
1 cup mascarpone
1/4 cup (or to your taste) granulated sugar
1 – 2 tablespoons coffee extract (start with one tablespoon and if the flavor of the filling is too subtle add the other tablespoon)
For the chai filling:
(makes enough filling for about 10 cannoli. If you want only chai filling, double the recipe)
1 cup mascarpone
1/4 cup (or to your taste) granulated sugar
1 – 2 tablespoons chai tea (start with one tablespoon and if the flavor of the filling is too subtle add the other tablespoon)
1. Our cannoli players for the shells: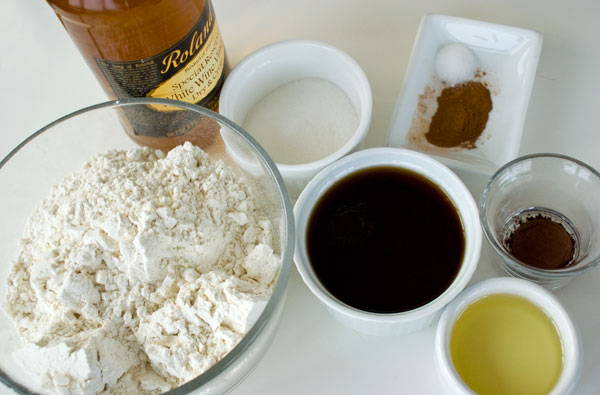 2. Into the bowl of a food processor (or you can do this by hand) go the flour, sugar, cocoa powder, cinnamon and salt.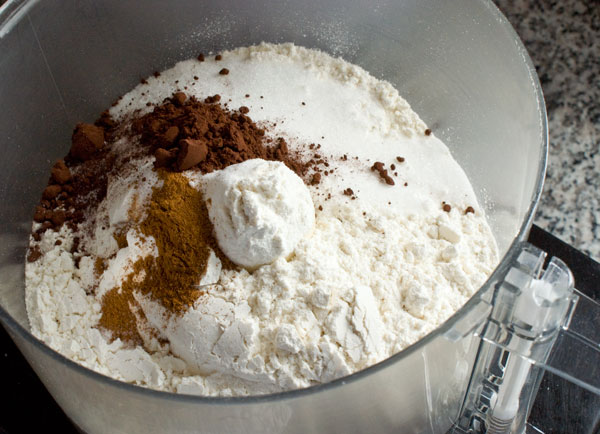 Give it a whirr to combine.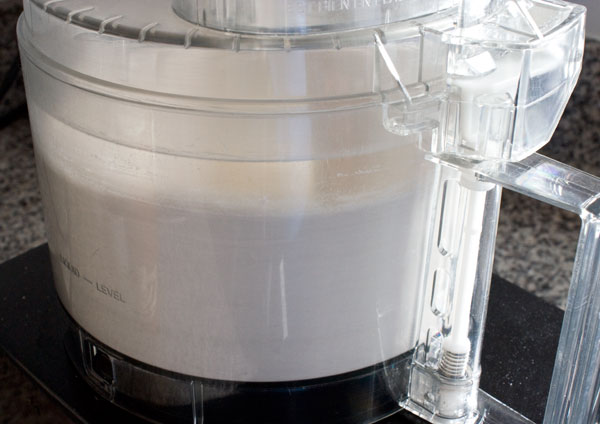 3. In a small bowl, stir up the marsala, oil and vinegar, (Sounds like salad dressing?) and pour them into the food processor while it's running.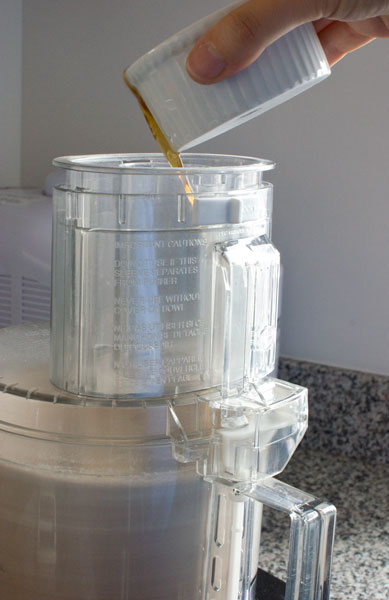 In a few seconds it should all moisten and start to come together.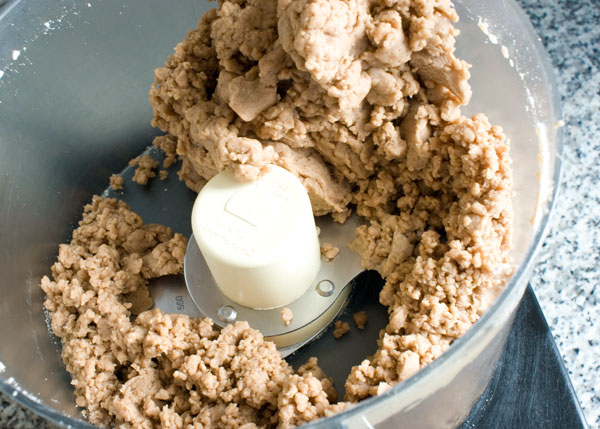 5. Dump it out onto a tabletop…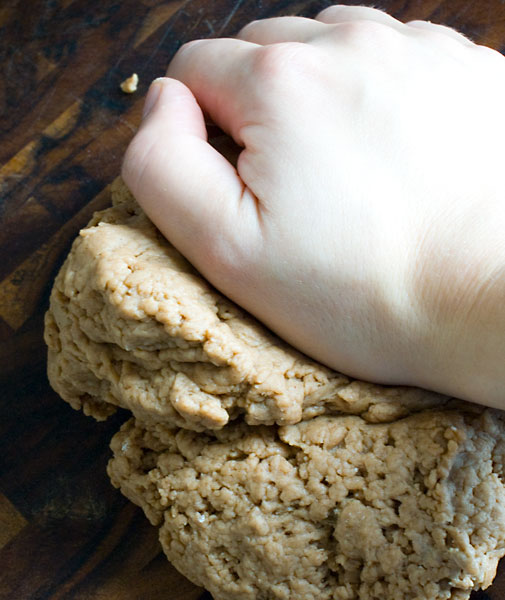 and give it a few turns to knead it and help it form a soft dough.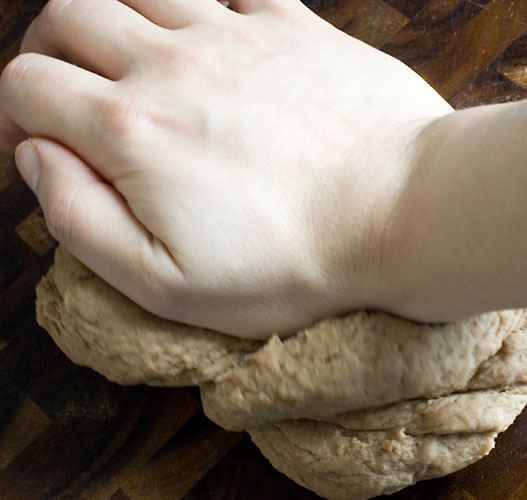 Wrap the dough ball in plastic and refrigerate for 2 hours or overnight. This will help relax the glutens and make it easier to roll.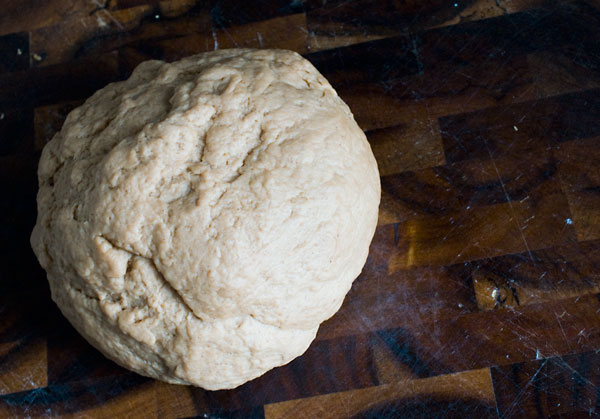 6. Now it's later, and we're ready to roll.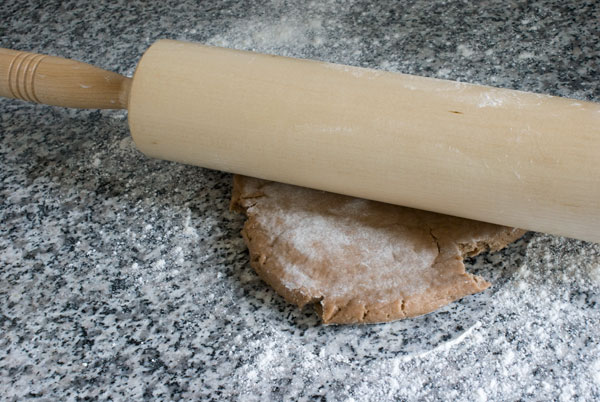 This dough resists like it's under arrest, but if you keep fighting it and rolling it, eventually, it gives in and rolls thin. It's very important to roll as thinly as possible or the shells fry up too thick and burly. You can see my edges went haywire from the fight.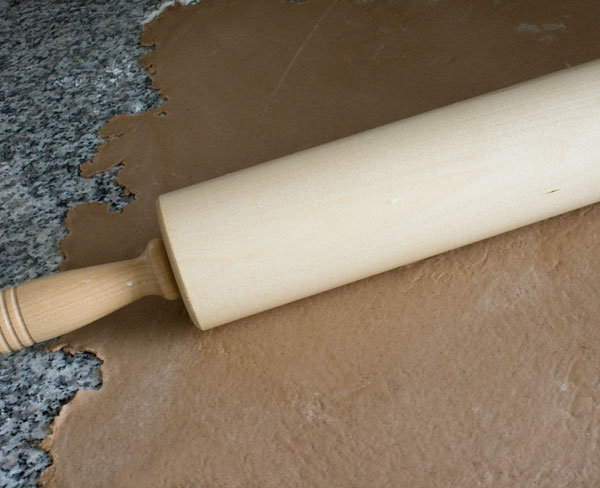 7. Cut out circles. Test one out to make sure the size will be able to wrap all the way around your cannoli forms. I used a 4″ glass.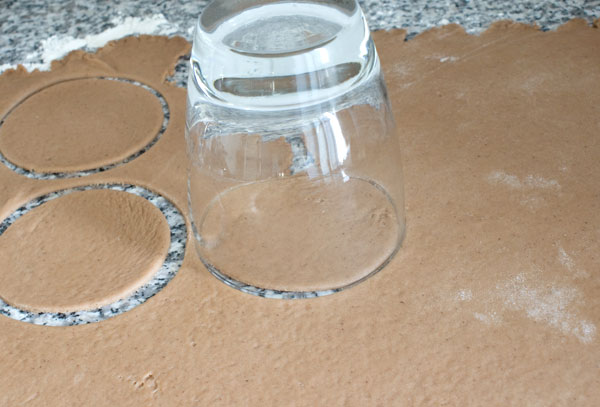 I tested out frying a cannoli with this dough thickness, and they still fried up too thick for my liking. I rolled each cut circle even thinner.
Now's a good time to start heating up the oil. Get the frying tools: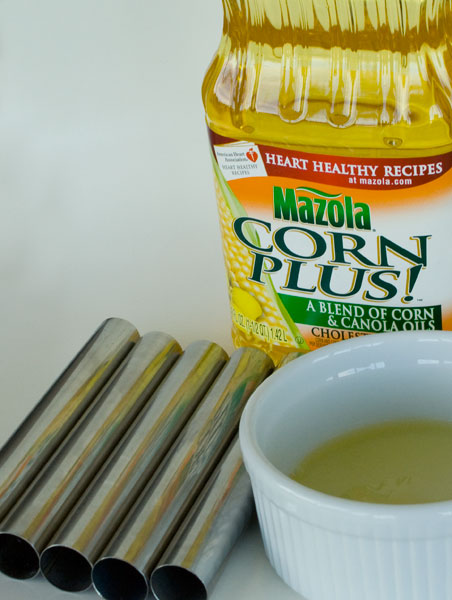 Pour the oil into a pot and attach a candy thermometer to the side. Don't let the mercury bulb touch the bottom of the pot or you may get a false reading. I tried frying at 350F, 375F, and 400F, and found 375F to be best. Set the heat to high until it comes to 375F, and when it does, you can turn down the heat to medium to keep it more or less steady. Keep an eye on the heat while frying: if the temperature drops, turn the heat to high until it reaches 375F again, and if the temperature soars, turn the heat down until the oil cools a little.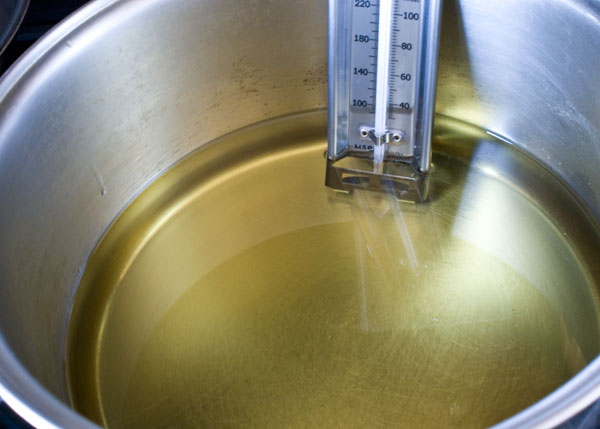 Get the molds ready: Oil each mold so the dough can slide off once its fried.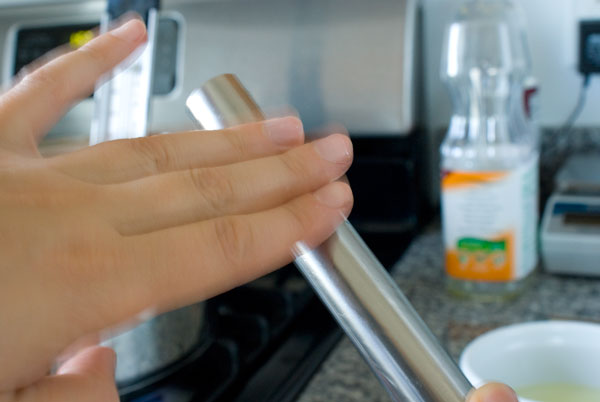 Wrap the dough circle around the mold and rub a little egg white on the area that you want to glue. Be sure not to get any egg on the mold or the dough will stick after its fried.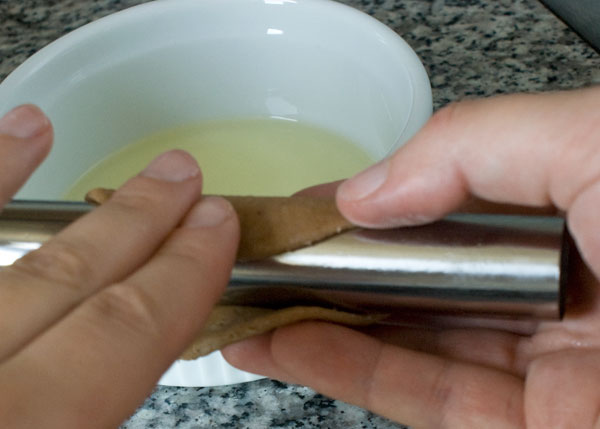 Once you have your forms all wrapped up and the temperature is set, you're ready to fry. Carefully, I repeat, CAREFULLY, set the molds into the oil. I was able to fry 5 at a time. You will see the oil start frothing at the mouth. My molds sank. Some molds will float. In either case, be sure to use a slotted spoon to move them around in the oil so they fry evenly and don't stick to each other or to the bottom of the pot.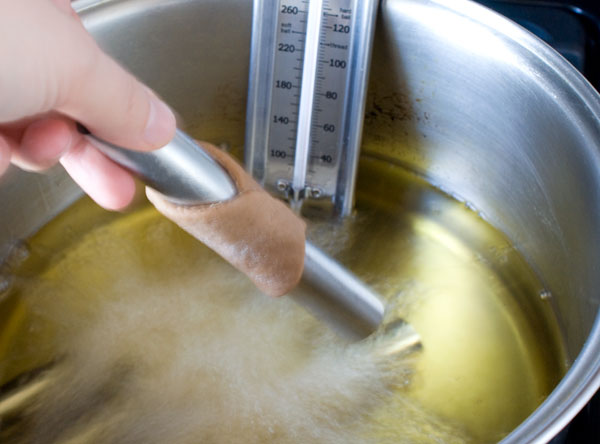 They take 2-3 minutes to fry. They will deepen in color and lose their raw look. Quickly pull them out with a slotted spoon and place on a paper-towel lined plate to drain. You may need to try a batch and see how it goes. My first batch wasn't ideal. They outside looked cooked, but once I pulled them off the molds I saw that the inside was still a little raw and doughy. My next batch cooked for minute a longer which improved matters. There is a learning curve.
You can let them cool for 3 or 4 minutes, but you must pull them off before they cool completely. Once room temperature, they are very hard to pull off. A did lose a couple to stubborness, but most of them gave me no trouble and came right off.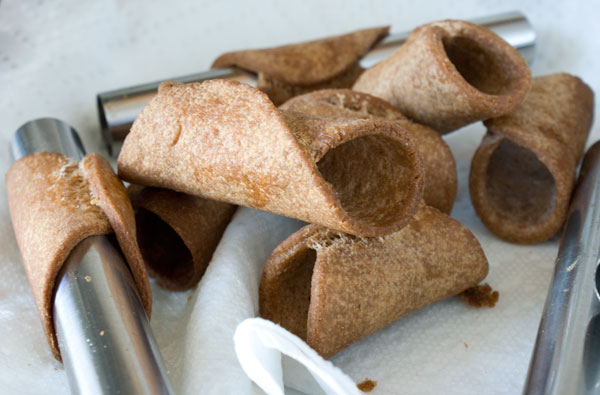 Let them cool completely. Keep frying the connoli in batches until you're out of dough.
While they cool, make the coffee filling. The stuff: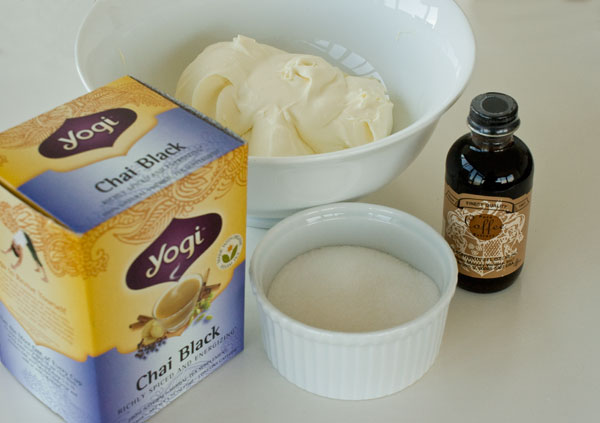 Plop mascarpone, sugar and coffee extract into a medium bowl.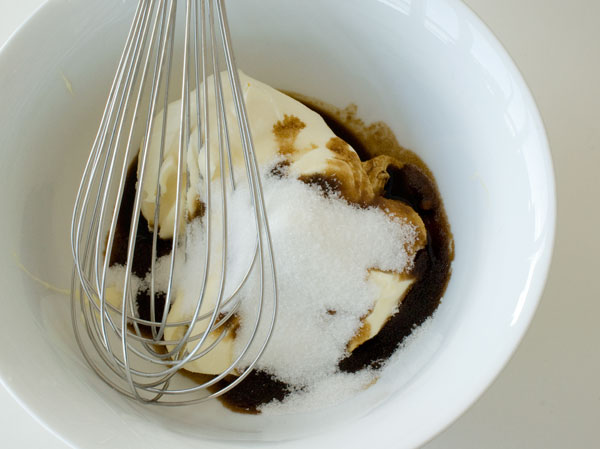 Then whip it like whipped cream. First it will be soupy…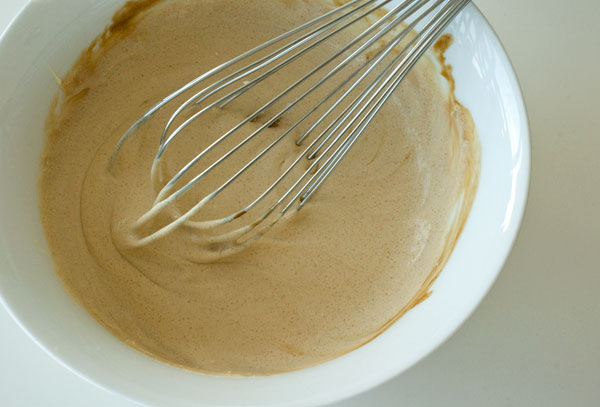 …then it will get stiff as it's whipped.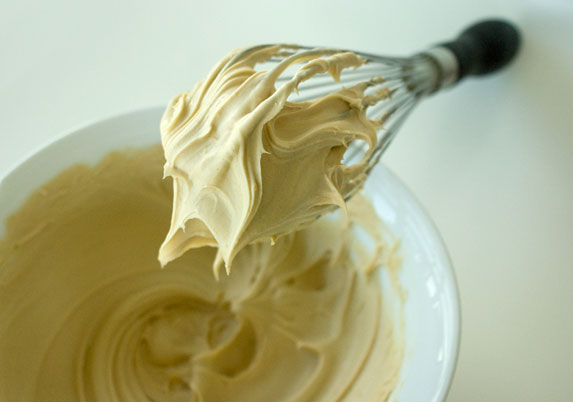 Spoon the filling into a pastry bag outfitted with a star stip.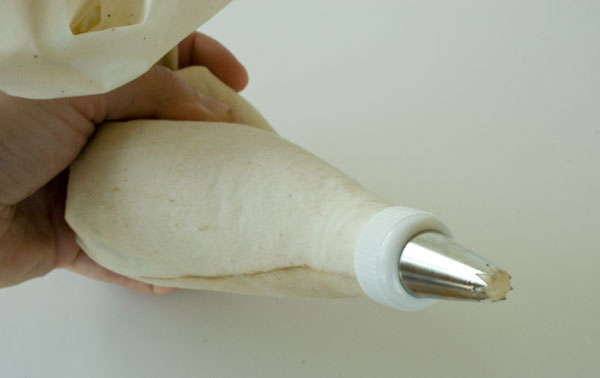 Pipe some into one end…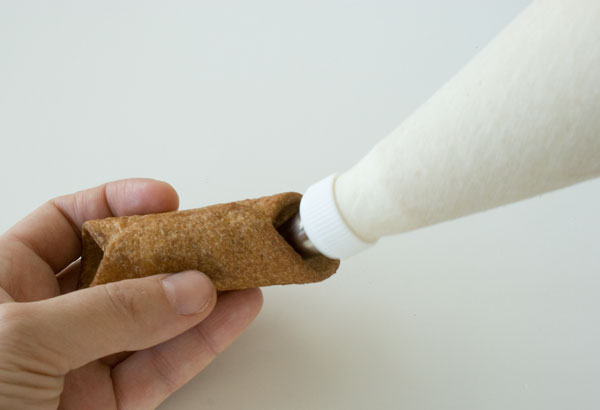 …and then the other.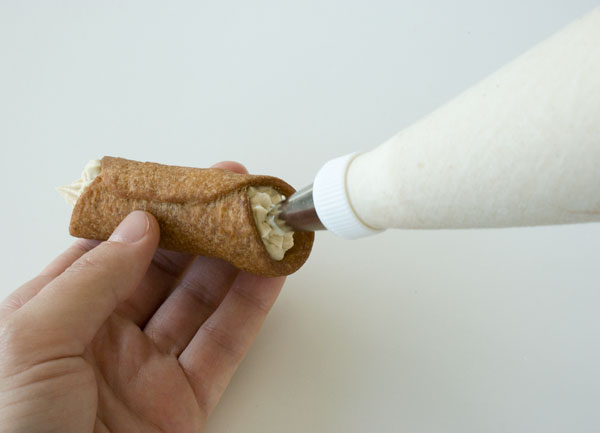 If you want to make the chai filling, do it exactly the same way as the coffee filling, only add 1 tablespoon of ground chai instead of coffee extract. To get ground chai, pour a little into a spice grinder…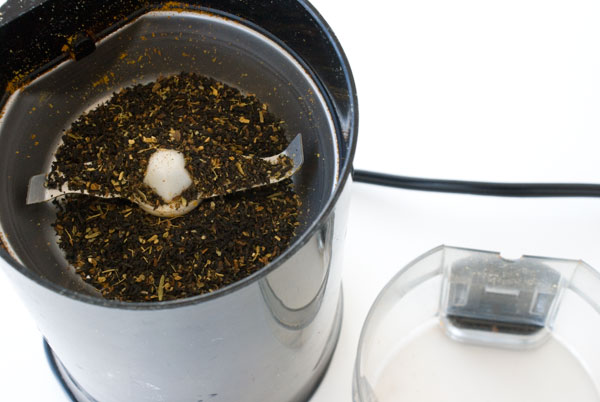 …then grind to a fine powder.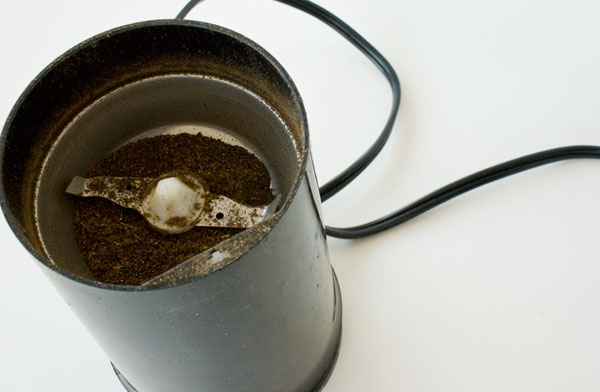 Add to the sugar and mascarpone and whip.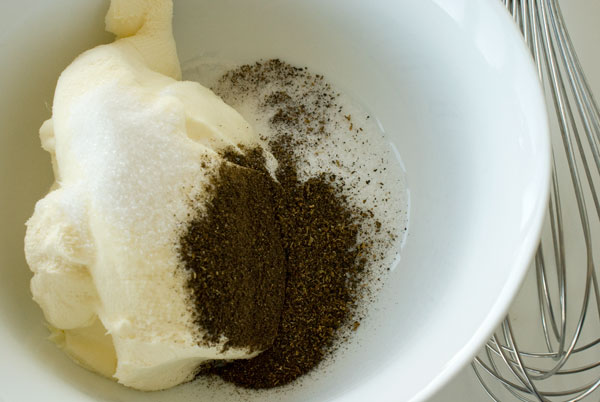 Be sure to fill them shortly before serving or they will get as soggy as a washed mushroom.
21 Responses to "Coffee or Tea? Cannoli, that is."
Post a Comment
Your E-Mail will be kept private. * = required fields.