Twitterdee, Twitterdum
November 26th, 2010 | 7 Comments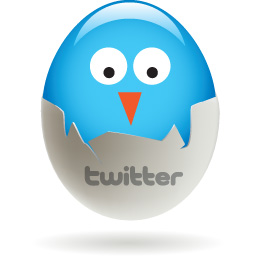 I finally did the unthinkable. I joined Twitter. This, after some prodding from you guys, and a word of encouragement from Elizabeth at Guilty Kitchen. I've been dragging my feet because I don't really get how it works, nor do I understand the subculture that's simmered up over there. Nevertheless, it's Thanksgiving month, and since I've been lulled into a sense of security by an overabundance of carbs, I figured now's as good a time as any.
So, consider me a member of modern times, and follow me over there. You can only begin to imagine all the can't-miss snippets that we'll conjure up in 140 characters or less.
If you have any tips on how to make the most of Twitter, then do share. In any case, I hope to see you there. I've added a button on my side bar, or you can click THIS BIG TWITTER-TRAVELING TEXT.
And I do hope you and your families have had a great, satisfying, gut-busting Thanksgiving. I can barely move an overstuffed muscle. Only my tweeting thumbs.
7 Responses to "Twitterdee, Twitterdum"
Post a Comment
Your E-Mail will be kept private. * = required fields.