Tootin' some horns
February 21st, 2011 | 14 Comments
Here's to you.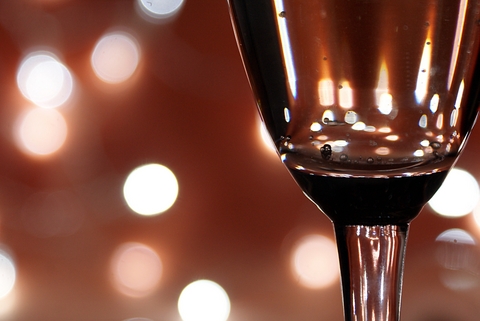 What a great day for singing your praises.
Baking is such a simple thing, and makes people so happy. One whiff of buttery, cinnamony  aroma wafting from the kitchen can melt away any foul disposition. And the act of stirring and rolling calms our own overstimulated minds. It's one of those things that we can do together, virtually, and then share and inspire each other to try something new.
It's also nice to see you step outside your comfort zone. Sometimes a moment of bravery can get you what you didn't think you were capable of.
Right before Valentine's, I got an email from Gina. She read this post and "went for it".
I just wanted to write and thank you for this blog! I myself am a print/web designer who has been looking at pastry work for a while as my next creative outlet. I've always enjoyed cooking, but found myself drawn to desserts for some reason. I seem to put a little extra love into any dessert I make and I just enjoy the process so much more than preparing savory foods. Eating it isn't all that bad either.

So I took your advice last week and decided to ask a bakery if I could intern for a day. I chose Dulce Desserts because I created their website and knew that the owner might have a little more patience with me. She agreed to let me try it! I worked 10.5 hours on Thursday and left very tired, but happy as could be. Turns out she really needed my help that day, as they had an order for 2400 small bites, 800 of which were the mini cupcakes I made. I didn't burn, spill or seriously screw anything up. It was a miracle. And everyone got to go home early and spend time with their families. So needless to say they loved me and begged me to come back at the next opportunity. I'll be helping them out again the Sunday before Valentines Day when I'll learn to bake a ton of cookies and pipe designs on them. Can't wait!
So thanks again for the inspiration to try something new. I don't know if I'll be able to quit the day job just yet, but I'm definitely going to be practicing at the bakery and at home any chance I get.
I know how scary it is to put yourself out there like that and yet the rewards can be huge. It IS possible to go after what you want and Gina is a perfect example that it can be done. Gina, you rock! I'm truly ecstatic for you!
So if you've been hesitating up to this point, just try. You may surprise yourself.
Speaking of success, check you guys out! You tried macarons and lived to post about it. We'll never be macaron deprived again, *wink*.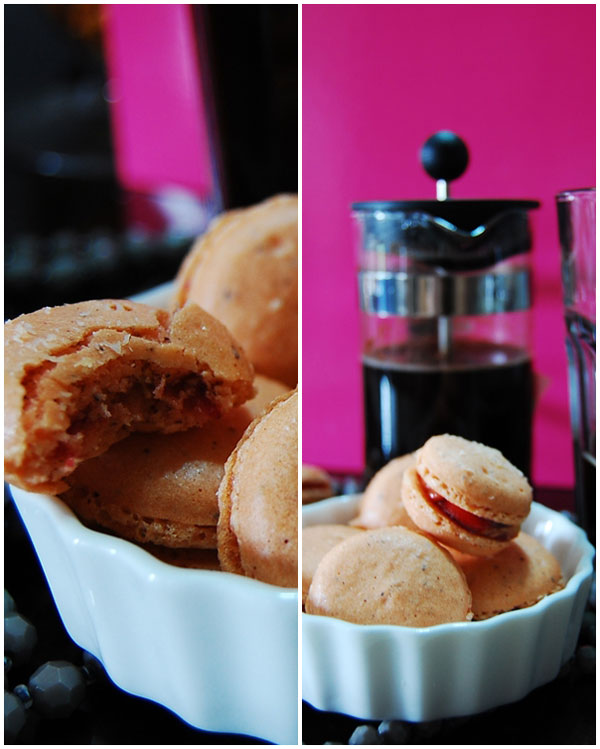 image courtesy of Joyce at Teamo Passion Delights
2.
Zo at Two Spoon
s
did vanilla macarons with Salted Buttercream and Caramel filling. Perfection!
And here's an email I got from Lisa. She had such good results, she kept going with flavors.
Loved the "Macaron Primer" and you're right, I was finally able to 'nail' the perfect macaron everytime. I just stared at them in awe especially that foot – I made lemon, chocolate and pistachio. I've been trying to make them since 1997 and there was NOTHING out there to help me save an articleI stumbled upon from "GOURMET" magazine dated December 1992. I've read everything I could get me hands on and never really had consistant results until your primer. THANK YOU so much.
If  you tried macarons recently and want to tell us about it, please do! Add a comment, or link to your post.
I want to thank you guys again, because I learn so much from you, too. You're always experimenting and coming up with ideas I wouldn't have thought of. And when you ask questions, if I don't know the answer, I'll go look it up, and get instant learning gratification, too.
Ok, my turn!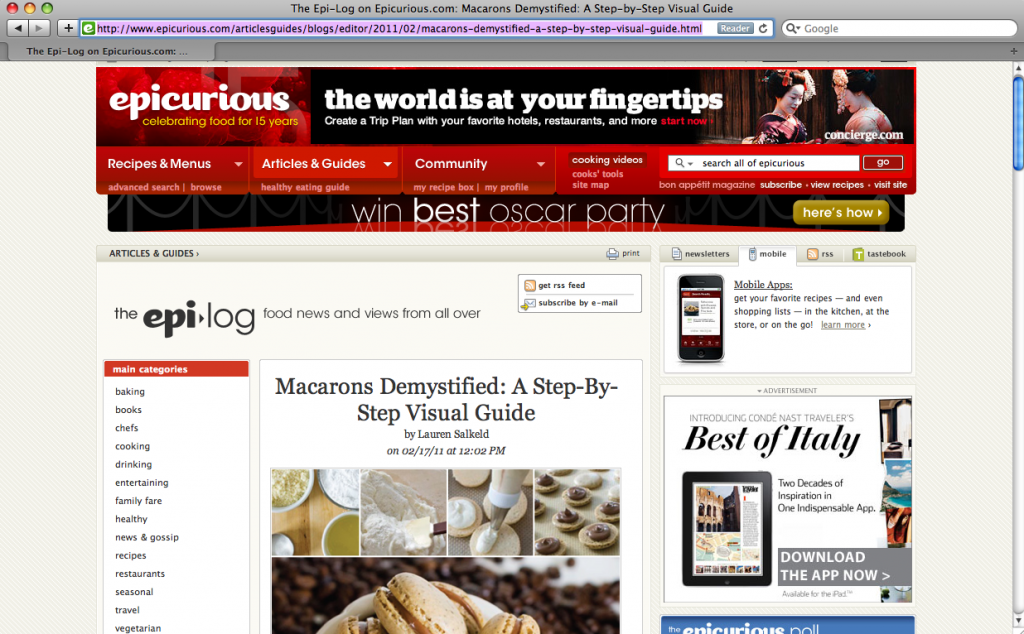 Epicurious.com got wind of the macaron primer, and did a really nice post about it! Believe me when I tell you I did a little jig in my office cubicle when I saw it. I hope I don't get big-headed now, heh heh. Thank you Lauren, at epicurious!
14 Responses to "Tootin' some horns"
Post a Comment
Your E-Mail will be kept private. * = required fields.