Almost a Rock Star
October 2nd, 2009 | 10 Comments
Let me apologize for being so MIA lately. Life stuff is getting in the way. I'll still be posting as I can until I can get back to my regular schedule, so do check back in. And I still have some catching up to do with you, too. Please have patience with me.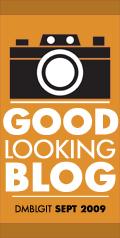 Meanwhile, a few weeks ago, I submitted the Dobos Torte photo to DMBLGIT. Then forgot all about it. Whaddaya know. I won overall second place. A heaping thank you goes out to the host Michelle at Brown Eyed Baker and all the judges who threw points my way.
♦  Shari of Whisk: A Food Blog
♦  Megan of Tres Jolie Studios
♦  Pille of Nami-Nami
♦  Vera of Baking Obsession
And congratulations to all the other winners! That was some stiff competition.
10 Responses to "Almost a Rock Star"
Post a Comment
Your E-Mail will be kept private. * = required fields.