A Bit o' Brittle
November 5th, 2009 | 20 Comments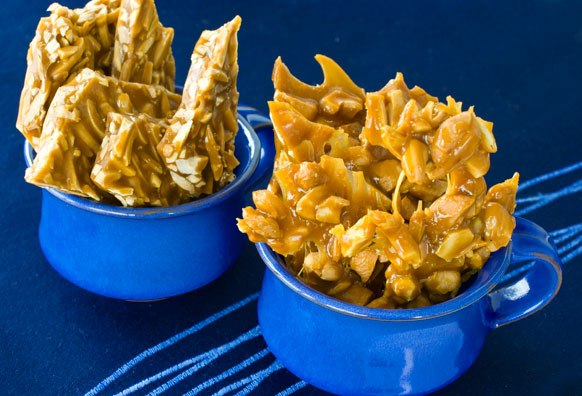 Unbeknownst to me, I've been on a caramel magic carpet ride. I didn't even realize this was the case until I saw Julia's beautiful round-up of caramel desserts. For one thing, she had the brilliant idea to theme it up for the month of October by working with only caramel in all its glorious splendor. Just look at that gallery of lovelies. She's shot every duck at the caramel carnival. (She's also gone all-French for the month of November so be sure to pay her blog a visit.) For another, it's amazing to see that cooked sugar is as transformable as the egg in the kitchen.
As I looked over her opus, it dawned on me that I've spent my fair share of time browning up sugar, too. There are the caramelized bananas from my last post, the garnish rounds on the Dobos Torte, the Creme Caramel from weeks past, the Caramel Chocolate Mousse that I won't soon forget, and now this. Brittle. I won't say what kind of brittle because this recipe makes ANY brittle. You can dance with almonds or cashews as I've done here, or you can salsa with sesame seeds, tango with peanuts, or twirl with walnuts. Heck, if you're feeling really footloose, you can throw in a medley of nuts and seeds. Salted nuts are great, too. If you've got big nuts (heh), be sure to chop 'em up first.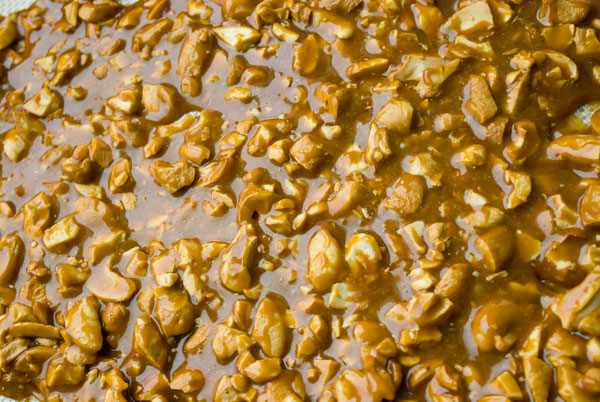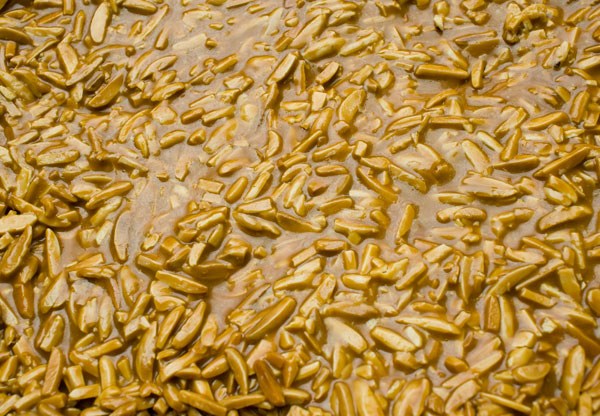 You'll notice that my brittle is really dense with nuts. That's because I like nuts and I like that proportion of nuts to sugar. If you want the brittle to be more candy-like and appear stained-glassy, you can add less nuts. This recipe makes a pretty big batch and I've learned the hard way that this is best. Like most people, I make brittle intending to give it as a gift. As it innocently cools on a sheet pan, I invariably drift over to "check" it and lop off a piece. This opens a Pandora's Box of unleashed cravings and I find myself moseying over for just "one more" chunk. Before you know it, the so-called gift dwindles to a sorry nub. Not enough to gift a bird, let alone a family, and I have to make a second batch. I've since wised up.
Almond Brittle
This recipe yields almost 2 lbs of hard-to-resist goodness. Like I said, you can substitute any nut or seed. The brittle will keep at room temperature for a couple of weeks if stored in an airtight Ziplock bag or Tupperware box.
2 cups (14oz or 392g) sugar
1 stick (4 oz or 112g) butter, chopped up into small dice
3 cups (about 12 oz or 350g) slivered almonds
1. Just 3 items.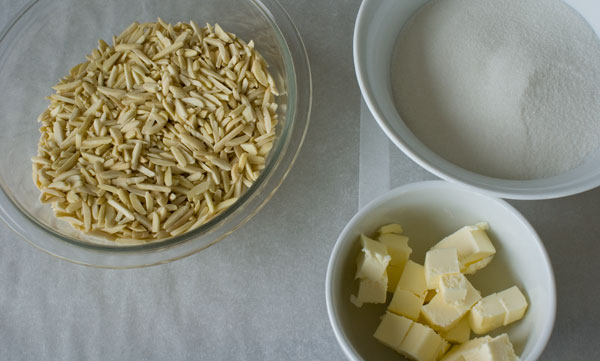 2. If your nuts are not roasted, you'll want to toast them up first for maximum flavor. Preheat oven to 350 degrees F and get those nuts in there for 15 minutes, until they're golden and the fragrance wafts through your kitchen.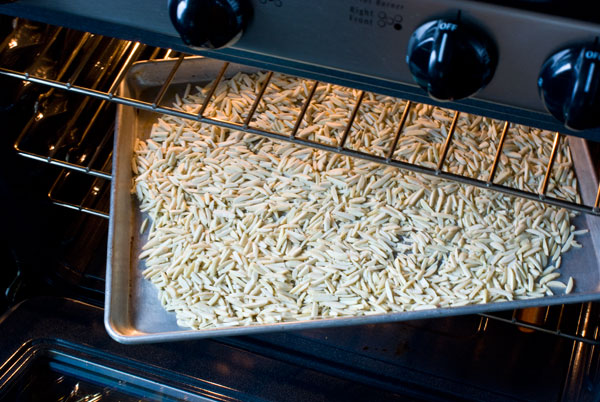 All golden. They can wait on the side.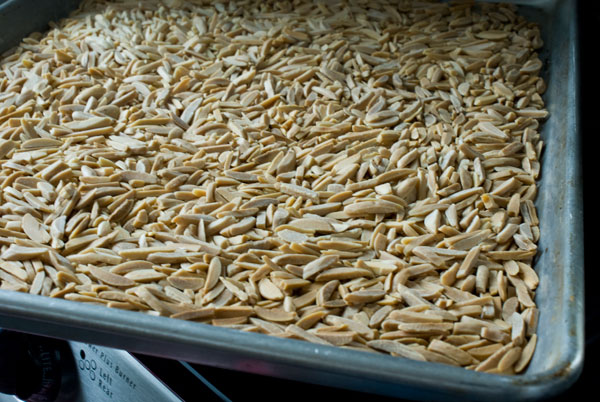 3. Let's caramelize the sugar. As you know, I like the dry caramel method. Set a light colored pan over medium-high heat (so you can see the change in color), and sprinkle a little of the sugar over the surface.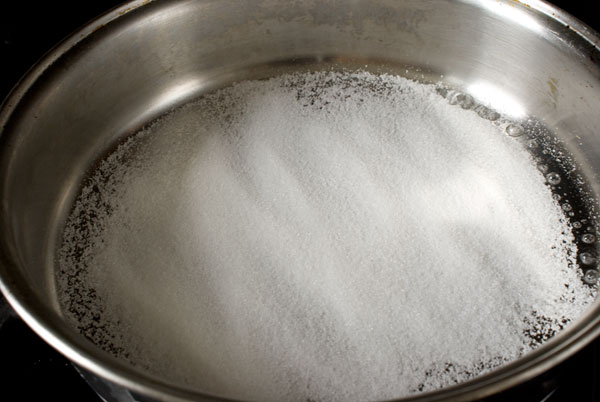 Watch it start to melt.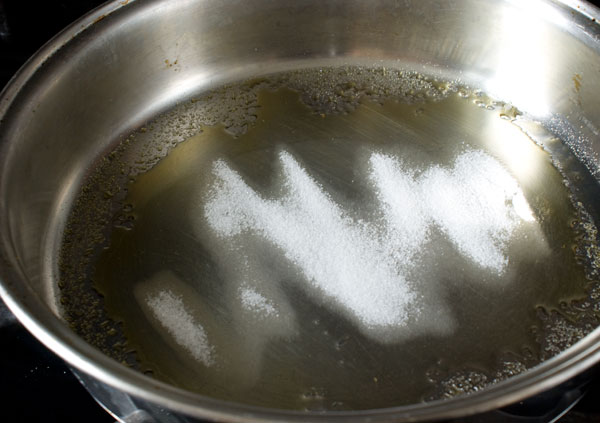 4. Add more sugar.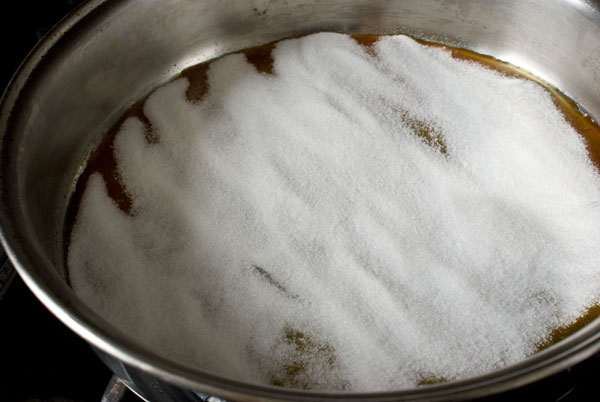 You can stir to keep the stuff on the bottom and edges from burning.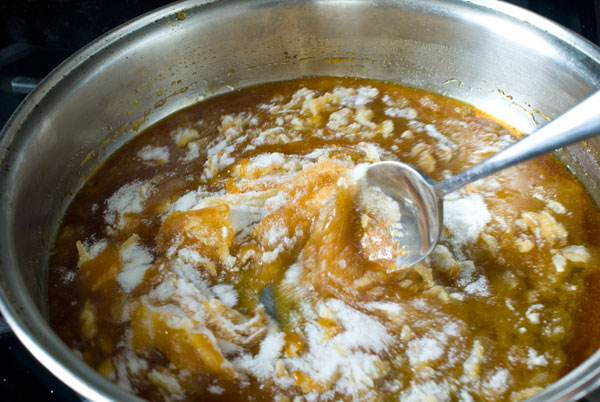 5. Add the remaining sugar, and let all of it melt down and deepen in color. Be patient with the lumps that may form. They will melt away. Stir now and again so the heat is evenly distributed.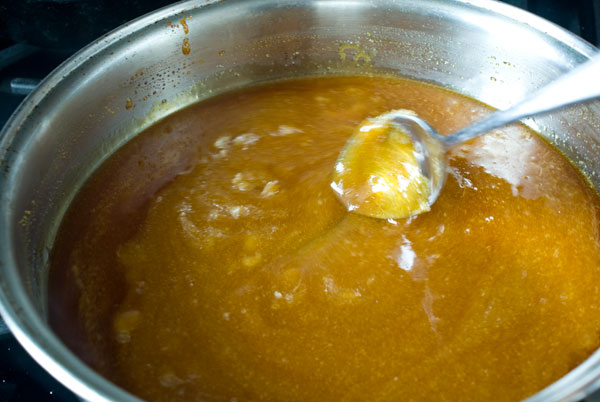 Once all the sugar is melted, let it continue to darken until you get a nice, deep golden brown color.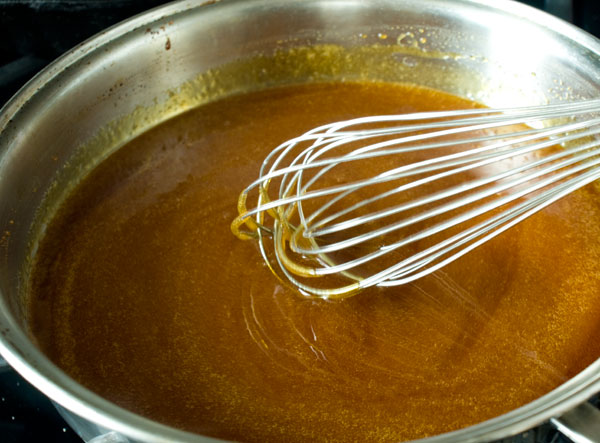 6. Working quickly, throw in the butter. It will start to sizzle and melt immediately. Whisk it in with fervor, while being careful to not let it splash back at you. That's some hot grease!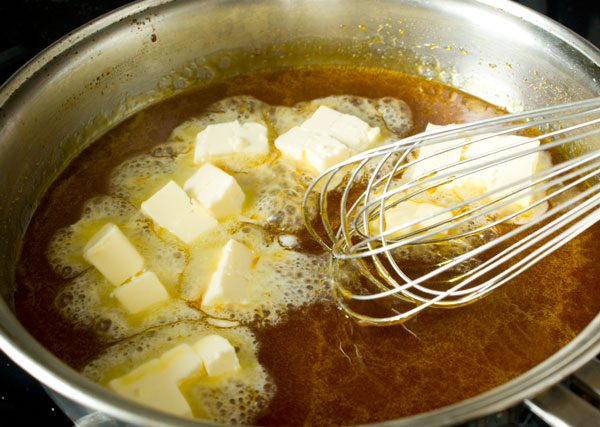 The butter has a tendency to pool and form a slick on the surface. You want to really meld it into the caramel, so keep whisking until it's all very smooth.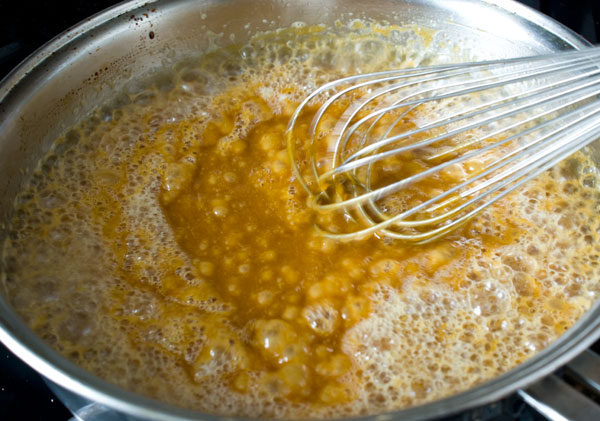 You can still see the butter slick at the edges in the next photo. Still not ready. Keep whisking.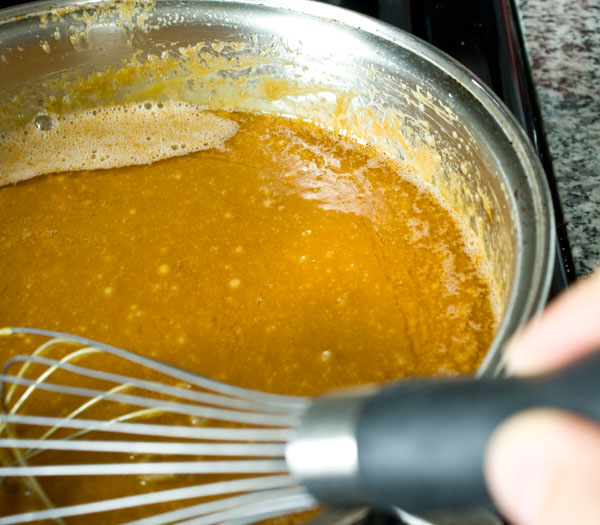 Now it's completely smooth.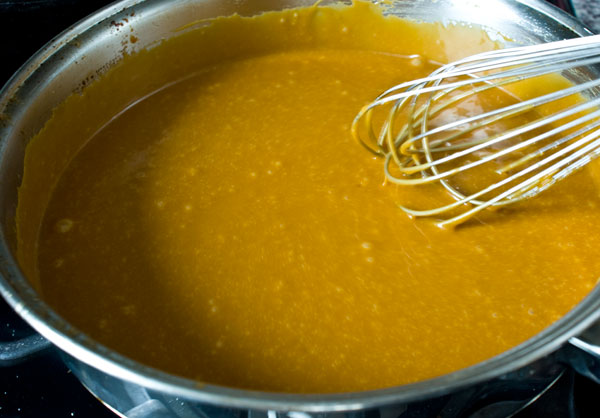 7. Toss in your nuts of choice…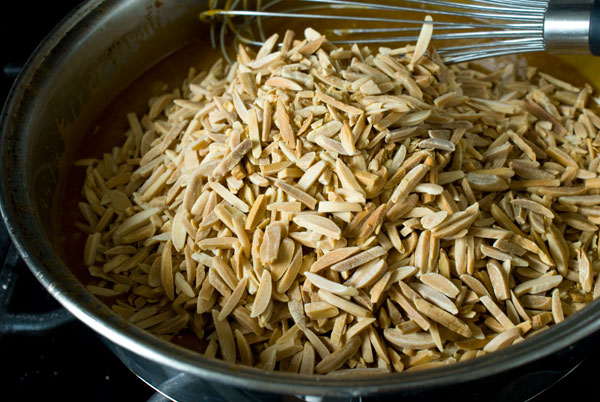 … then stir it all up until they're completely coated. It may happen that adding cool nuts to hot caramel will harden pockets of the sugar at first, but keep stirring it over the heat until none of the nuts are naked.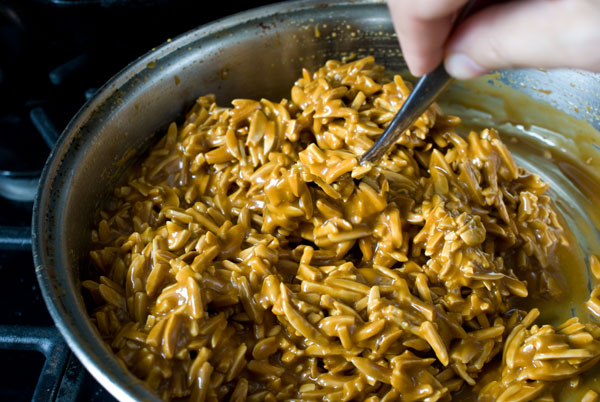 8. Plop the mixture onto a sheet pan lined with a Silpat. You can also use parchment that's been spritzed lightly with cooking spray.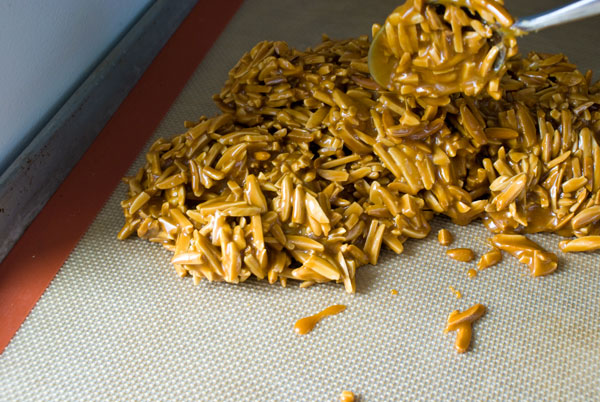 9. Now quickly spread it out as well as you can before the sugar gets a chance to harden.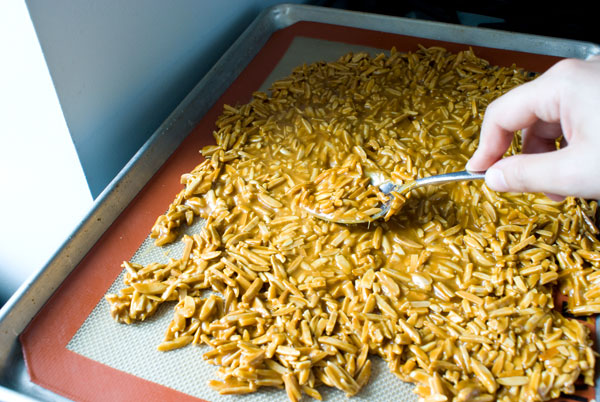 Let this cool completely (about an hour) and break into chunks.
Sneak off with a piece or two.
20 Responses to "A Bit o' Brittle"
Post a Comment
Your E-Mail will be kept private. * = required fields.