How to become a Professional Pastry Chef
October 28th, 2010 | 50 Comments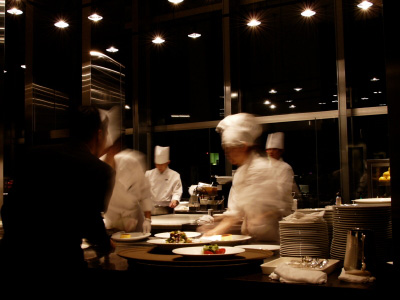 My inbox is overflowing like a molten lava cake. Turns out, some of you want to be pastry chefs and are looking for advice on the how to go about it. Well, thanks for thinking of me, I'm happy to help. I'll tell you what I wish someone told me when I first started because at the time, I had no idea how I was going to do it, and the thought of it left me bewildered. It was like trying to swim across the ocean.
First, we have to squelch The Fear. I remember how intimidated I was. It all seemed so out of my reach, like the industry was made up of untouchable gods, able to work miracles that us mere mortals only imagined. Please.
Once I saw the motley crew that was really behind the scenes, I wondered what scared me so much in the first place. There they were, night after night, leaning against the "pass" (the area where you pass finished plates to the waiter), looking half dazed and gearing up for another night of drinking after a long shift. You had your career changers, illegal immigrants, drop outs, misfits, those with no English, bookish scholarly types and those who never touched a pastry bag in their lives (including me.) Some people were in the kitchen because they really didn't know what else to do with themselves, and fell into the job accidentaly. Fer cryin' out loud, if you can fall into a job accidentally, it can't be that hard to do it on purpose.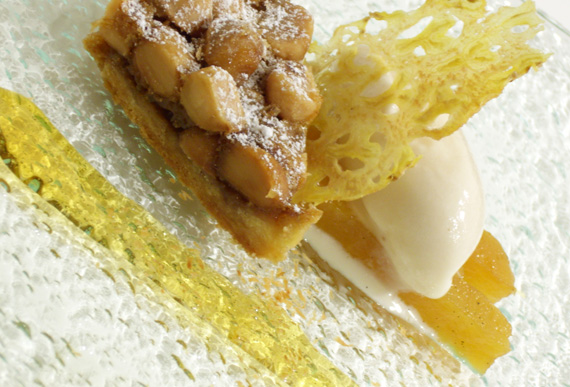 Pastry school or no pastry school?
When I first decided I would really make a go of the pastry chef thing, my goal was to go to school, namely the creme de la creme of culinary schools, The Culinary Institute of America. I put on my finest and took a trip up to Hyde Park, NY to tour the campus and instantly fell in love. Just as I was gearing up to fill out my tuition check, they unceremoniously killed my plans. Apparently, they didn't accept students unless they had prior restaurant experience. My pen and my jaw hit the floor. What ogre made up this crazy Catch 22? You can't get a job without some sort of school, and you can't go to school without having had a job? All I could do was shake my fist at the heavens and come up with a plan B.
Now, looking back, that was the BEST thing they could have done for me. If you've looked into going to any culinary school yourself, you've undoubtedly found out that it's EXPENSIVE, and you're going to have to make a lot of crullers over your lifetime to dig out of that debt. I've seen too many people leave their old lives behind with a kind of determined naiveté, fork over their life savings for tuition, only to discover upon entering the profession that it is nothing like they imagined. They discover that it is ridiculously hard work, unglamorous most of the time and they don't get to be famous just for showing up. Disillusioned, some of them even quit after a year or two.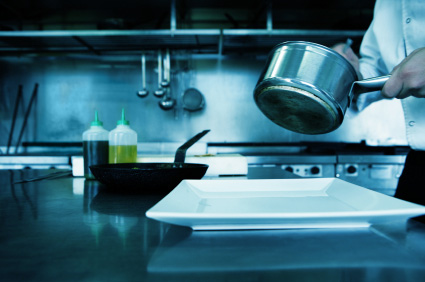 So, obviously, the biz is not for everyone. The best favor you can do for yourself is to try the job on for size before committing to a school. It's nothing like baking at home, and you really need to understand what you're getting yourself into. The pace is fast, the time runs away from you, the stress can get so intense, you sometimes want to throw down your side towel and stomp out the door, all your bones ache like you've been beaten with a bag of potatoes, and it can be highly repetitive. The job may bear an eerie similarity to factory work, what with the industrial sized quantities, and equipment working in constant rotation.
Hopefully, you're still reading and aren't completely discouraged, because it can also be really exciting. There were days when I was so far in the zone, I felt like I was on fistfuls of heroin. My adrenaline was pumping, the heart racing, hundreds of stunning plates making their way out of the kitchen with swift precision, and a thick buzz in the kitchen air. It was like being in the World Series every day — a constant rush.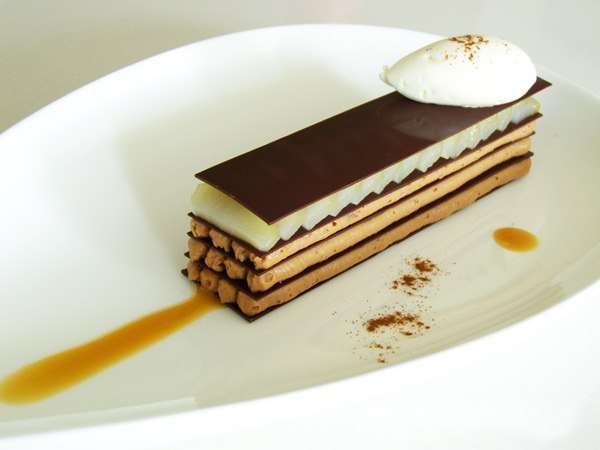 The one thing I will say for going to school is it gives you something to put on your resume, and usually the school has a placement program that will help you get a job. But still, it's a small advantage.
First job in a pastry kitchen
I'll drop the (raspberry) bombe now, because no one seems to want to hear this. If your goal is to really be the best high-level pastry chef at renowned fine-dining restaurants or bakeries, you'll probably have to intern at first.
When I was hiring, I didn't care too much about what school someone came from or if they'd even been. I had a set budget for a staff, and I wanted to fill the team with people who would make my life easier. School doesn't give you the kind of experience that makes a chef's life easier. A chef will still have to show you a lot of the ropes and spend a lot of precious time holding your hand. If I had a choice between a candidate with some kind of school certificate or someone with restaurant experience, but no certificate, the experienced candidate would usually prove to be better suited.
BUT, I always had room for an intern, and even the greenest interns made life easier to some extent. Because I didn't have to truly depend on them, everything they did was a bonus. An intern meant extra hands, free labor, and it almost didn't matter how slowly they did the assigned task.
It really is a win-win for both you and the chef. Because you're unpaid, you can decide how few or how many hours you want to work per week. You learn so much, and that education doesn't cost you anything but your time. You get valuable experience and a true picture of restaurant life. It really doesn't have to be for long, and as soon as you start, you'll instantly have something to add to your resume. Meanwhile, you can continue to search for a paying gig, which will be easier to get because you are gaining experience while searching.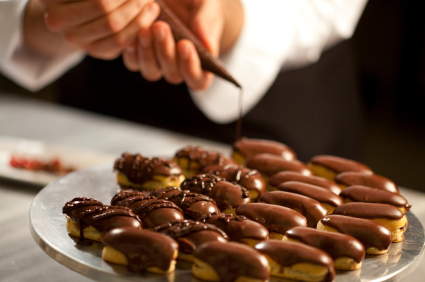 How to get that foot in the door
I imagine there are lots of ways to go about this, but here's what I would do:
Seems to go without saying, but I'll say it: if you are a career changer, don't quit until you find a paying job. You can intern a couple of nights a week and/or a day on the weekend.

If you are serious about greatness, don't strive for any old job in any crummy Crisco-using bakery. Make a list of 15 to 20 places in your area that you would die to work in. You know which ones—those that get all the buzz, get written about in magazines, and get consistently high ratings in Zagat's.

Find out the names of the pastry chefs. You can look online, but be sure that information is current. If  you can't find it, call the restaurant. Don't panic, you will most likely get the reservationist, who is making a few bucks an hour trying to pay for college. Tell them you'd like to send  a resume to the pastry chef, and would they kindly give you the name.

Once you have your list together, prepare yourself mentally because you will call each restaurant back, and ask to speak to the pastry chef. Don't worry, this will only be a few uncomfortable minutes and you could potentially change your life. Only call between 3PM-5PM, the hours between lunch and dinner service, when the kitchen is relatively quieter. Don't take up too much of the chef's time. Be brief. Give your name and explain that you're determined to get into the pastry business and are looking for an internship. Ask if they would allow you to "trail" in their kitchen for a day. This means you will spend the day trying out. If they agree, ask what you need to bring—maybe a set of knives, or a pocket pad, Sharpie marker and pen, and be sure you bring it. Wear really comfortable shoes.

Clogs

are a favorite in the kitchen. The chef can decide if they want to continue on with you at the end of the trail day.

Speaking for myself, I usually agreed to let someone come in for an afternoon, because it was no skin off my teeth. It was just a day. And think about this: if I wanted an intern, I usually had to go find one myself! People rarely took the initiative to call, choosing more passive approaches to contact me, so if you do call, you will stand out.

I'm pretty confident that you will find an opportunity within that list of 15 or 20 names. The turnover in this business is almost laughable. Positions constantly become available and you WILL find one.

If you really, really, really can't bring yourself to call, then mail. Pastry chefs don't get much mail at work, so your envelope will stand out. Craft a short cover letter about your search for an internship, your passion for pastry, your desire to learn, and all that good stuff, and attach your resume. I don't think this is as effective as calling because with a phone call, you're putting the chef on the spot a little bit to let you come in, and that is an advantage for you.
So there you have it — a step-by-step, of sorts on how to go about becoming a pastry chef. After you get started, the rest will fall into place because you'll meet people who'll give input and help. Anyone been down this road and have any other advice? Please share.
Would you ever consider doing anything like this?
Also, these are two FANTASTIC books I read that were incredibly informative and motivating when I was starting:
This one has loads of stories from big-name chefs, how they started, their insights, as well as signature recipes.
The Making of a Pastry Chef: Recipes and Inspiration from America's Best Pastry Chefs
This one's about what it's really like to go to the Culinary Institute of America, and above all, what it takes to really excel in the biz.
The Making of a Chef: Mastering Heat at the Culinary Institute of America
50 Responses to "How to become a Professional Pastry Chef"
Post a Comment
Your E-Mail will be kept private. * = required fields.