The Best Holiday Gifts for the Pastry Enthusiast
December 2nd, 2010 | 12 Comments
Every year around this time, I take the opportunity to fill out my pastry tool and book collection by writing up a well-strategized list for my family members to buy for me. What can I say? The holidays are about giving… and I have no trouble receiving. A gracious "thank you" awaits for whoever decides to get me the coveted Food Styling: The Art of Preparing Food for the Camera, right after I rip it out of their terrified hands.
Most of us have the usual spatulas and rolling pins in stock already. What's lacking are the more specialized items that make us feel like the pastry bad-asses that we are. Here are some ideas that would make anyone want to head straight into the kitchen for some flour tossing.
Oh, and don't forget to check out last year's holiday gift list for even more ideas.
(Click on the title to go to the link.)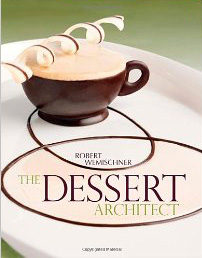 The Dessert Architect
Anyone who's ever dreamed of working in a pro kitchen will get lost in this book. This beauty will guide you through the way pastry chefs approach their food, techniques, and gorgeous restaurant-worthy plating, all with recipes and gorgeous photos. A hard-core learning tool.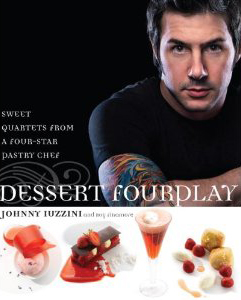 Dessert FourPlay: Sweet Quartets from a Four-Star Pastry Chef
Another heavy hitter in the pastry world, I've had the pleasure of crossing paths with this tatooed gentleman a few times and I can safely say he is one talented and imaginative pastry chef. This book is made up of composed plates that have 4 mini desserts together (hence the title) for a real whopper of a meal-ender, or only one element can be made for more instant dessert gratification. This book offers great insight to how a pastry chef designs food and how he thinks about the pairings. It's also well explained so anyone working at home can recreate these with success.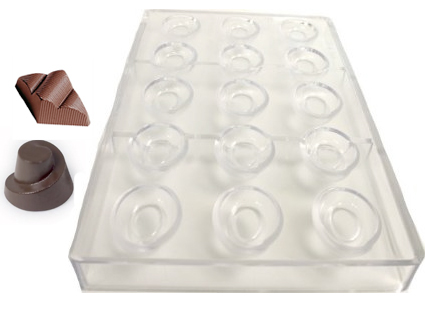 Paderno World Cuisine Polycarbonate Chocolate Mold, Rounded Heart
If you've ever wanted to make your own molded chocolates, these are the molds for the job. Once you've got the chocolate tempering mastered, you can have your own beautiful, shiny chocolates with whatever ganache filling you desire. Each tray is just one shape style, and makes about a pound. There are many shapes available and I can't have enough in my collection.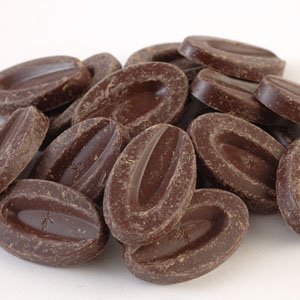 Valrhona Manjari Dark Couverture 64% by ChefShop
In order to make the best molded chocolates, or any other chocolate-themed baked good for that matter, this brand is one of the best. The flavor is enormously chocolaty. I'm making myself hungry just thinking about it. The small oval shape means no chopping is required and the little divot is designed for even melting. They really thought of everything.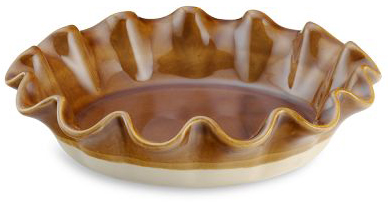 Every time I bake using pretty bakeware, I feel like I'm in a fairy tale, with a pie cooling on a window sill.
Paderno World Cuisine Set of 15 Marzipan Tools
Anyone who's big into cake decorating and working with marzipan will appreciate this comprehensive tool set. There is not a shape out there that can't be created. Soccer balls? High heeled shoes? Yellow taxis? Big red lips? All on a cake? Done.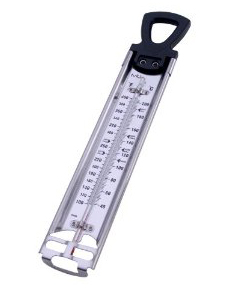 MIU France 90049 Candy/Deep Fryer Thermometer
This is truly a staple. It's used for so much! For caramels and candies and fried donuts and meringues, and marshmallows, and changing tires and doing laundry and so much more (ok, maybe not quite the last two. Yet.) I've used it time and time again on this blog and I don't know how to get by without one. The type that have both Celcius and Farenheit measures are most versatile.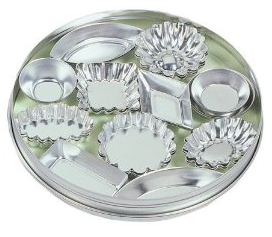 Fox Run 36-Piece Mini Tartlettes Set
Make your guests squeal with delight by serving them miniature tarts. Just blind bake your tart shells in these cuties, then fill with creams or curds, then top with small fruit, like berries or diced kiwi.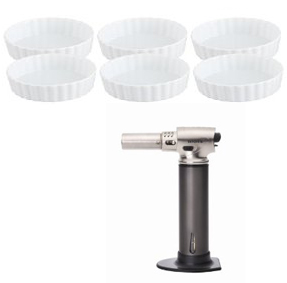 HIC Porcelain 4.5-by-1-Inch Round Quiche/Creme Brulee Dishes, Set of 6
BonJour Pro Torch with Fuel Gauge
You KNOW it's a special occasion when homemade creme brulees are served. And you're not limited to flavors. Other than classic vanilla, try maple, pistachio, chocolate, citrus, or the kitchen sink! These dishes can also be used to prettify quiches, small gratins, casseroles, crumbles, or anything that gets stuffed in an oven. Take note, these are sold separately, which I prefer because you can buy more dishes if you have more guests, but you can find kits that are sold together as well.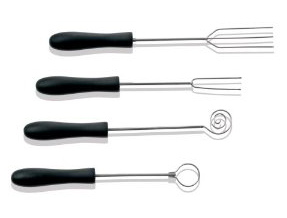 Paderno World Cuisine Set of 4 Inch Chocolate Dipping Forks
These are especially useful for making dipped confections, where grubby fingerprints would ruin the outer coating. I use these for dipping truffles, squared ganache, marshmallows, and nut clusters into tempered chocolate for a professional finish.
There you have it! My list of pastry wares that can take you to the next level. What kinds of things are on your wish list?
12 Responses to "The Best Holiday Gifts for the Pastry Enthusiast"
Post a Comment
Your E-Mail will be kept private. * = required fields.